The Librarians – Bibliotecarii (2014), serial online subtitrat
Pentru a fi la curent cu tot ce este nou te rugăm să-ți faci un cont aici... și ai posibilitatea să ai ZERO reclame!
Au vazut aceasta pagina: 1024 persoane
Despre serial...
The Librarians (Serial TV 2014 – 2018), serial online subtitrat în limba Română
Bibliotecarii – Povestea unei vechi organizații secrete, cu sediul la subsolul Metropolitan Public Library, care rezolvă mistere imposibile, luptă cu amenințările supranaturale și recuperează artefacte de pe tot teritoriul lumii. În ultimii 10 ani, Flynn Carsen a fost Bibliotecarul, cel care aduna și proteja aceste artefacte, împiedicând ca ele să cadă pe mâini greșite. Dar acest job se dovedește a fi mult prea mult pentru o singură persoană. Pentru a-l ajuta în acest scop, Biblioteca a angajat patru persoane din toată lumea: Eve Baird – un agent anti-terorism, cu misiunea de a proteja grupul și de a-i ține pe toți în viață; Jake Stone – un lucrător în domeniul petrolului din Oklahoma, cu un IQ de 190 și cu cunoștințe enciclopedice despre istoria artei; Cassandra – o tânără care are darul special de a avea halucinații senzoriale și auditive, în strânsă legătură cu sinestezia și Ezekiel Jones – un maestru al noilor tehnologii și pasionat al vechilor crime, care este încântat că poate să fie un om internaional al misterelor. Liderul noii echipe este Jenkins, un expert în antichitate, care lucrează în organizație de când lumea. Împreună, se voir lovi de numeroase încercări și de inamici la fel de numeroși, cel mai de temut fiind misteriosul și nemuritorul Dulaque, șeful cultului antic The Serpent Brotherhood…
A group of librarians set off on adventures in an effort to save mysterious, ancient artifacts. Based on the series of "The Librarian" movies.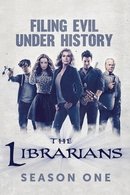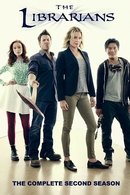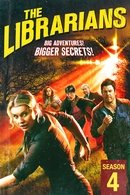 Sezonul 1 2014 | 10 episoade
Sezonul 1 al Bibliotecarilor a avut premiera la 7 decembrie 2014.
Un grup de bibliotecari a pornit de la aventuri într-un efort de a salva artefacte misterioase, antice.
Sezonul 2 2015 | 10 episoade
Sezonul 2 al Bibliotecarilor a avut premiera la 1 noiembrie 2015.
Sezonul 3 2016 | 10 episoade
Sezonul 3 al Bibliotecarilor a avut premiera pe 20 noiembrie 2016.
Sezonul 4 2017 | 12 episoade
Sezonul 4 al Bibliotecarilor a avut premiera pe 13 decembrie 2017.
Titlul original
The Librarians
Prima dată difuzat
Dec. 07, 2014
Ultima dată difuzat
Feb. 07, 2018
Lista cu Sezoane si Episoade